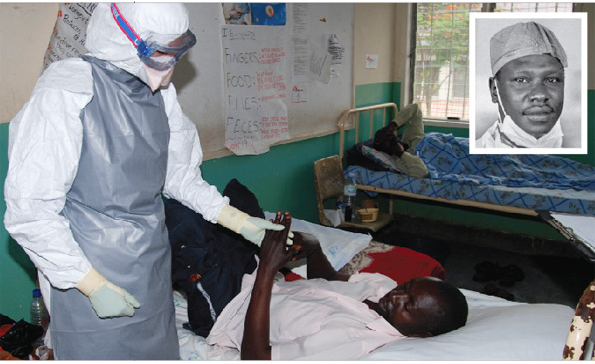 [ad_1]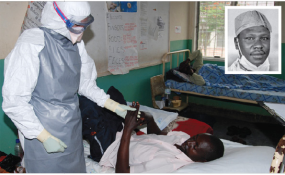 Photo: Daily monitor
A medical officer visits a patient with a suspected ebola. Dr Mathev Lukviia (artist) died of ebola when the disease first broke out in 2000.
Uganda is planning to vaccinate some of its health workers against Ebola on Wednesday, making it the first country in the world to give the vaccine without an active outbreak.
Uganda is vaccinated by at least 3,000 health workers in five districts bordering the Democratic Republic of the Congo, where the Ebola epidemic killed at least 180 people.
The vaccine program in this area is spurred by fears of spreading disease across the border between the two countries, and the porosity of this border is of great concern, says Grace Kivanuka, executive director of the Federation of Health Care in Uganda.
"We have seen a lot of exposure to health workers along the Congolese border," Kivanuka told RFI. "There really is a need for some kind of intervention to protect these workers. Uganda has a very porous border with the DR Congo, so there are many refugees and other people who cross from the place where violence is."
Violent violence against DRC makes it difficult to fight Ebola
In most DRCs, the government has taken some important steps to help combat the spread of Ebola. For example, in places of entry and exit from large cities where the Ebola case occurred, people are examined for illness and must wash their hands to contain the virus.
In the light of the violence in the eastern DRC, there are questions about how well equipped Kinshasa should deal with spreading Ebola there.
"The situation is not improving in this region," Emmanuel Dupui, an African specialist and head of the Paris IPSE think-tank, told RFI. "Several rebel groups are still active, as President Josef Cabin has mentioned when he recently addressed the UN when he questioned the effectiveness of UN peacekeeping missions that have been in the eastern DRC for nearly 20 years."
"There are areas that are very difficult to access and when dealing with an ebola, you must be able to isolate patients, as well as contact points, to track all the contacts of different people and safe and dignified funeral," added Tricia Norvood, an official Doctors Without Borders based in Bunia in the eastern DRC, near the Ugandan border.
"In order to do this, it is necessary that you have gained trust in the community and you need a good exchange of information with the community and this is really difficult when you do not have access to certain communities," Norwood told RFI. "I know that the DRC's health ministry is working hard to try to gain access to certain communities, but [the security situation] definitely complicates the whole answer. "
[ad_2]
Source link