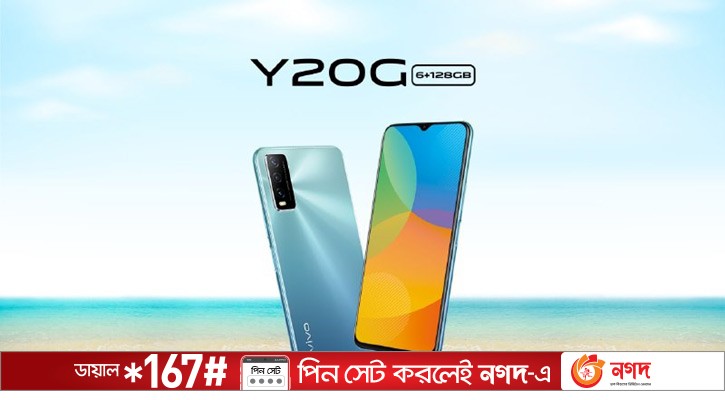 Daka: Vivo has come up with affordable smartphones for game lovers. The excellent gaming processor on the Vivo I20G will provide users with a great gaming experience on their smartphones.
The device will be available for purchase on Tuesday (March 2nd) at authorized Vivo stores across the country, as well as e-commerce stores Pikabu and Robi Shop. The price of the Vivo I20G smartphone is within the reach of the average person.
According to the company, the Vivo I20G smartphone has 16-watt fast charging technology. It also comes with a five thousand mAh battery. When the Vivo I20G smartphone is fully charged, the game can be played for eight consecutive hours. It can also be used for online HD streaming movies up to 20 hours after charging. There is also the advantage of reverse charging.
The Vivo I20G also runs the Helio G60 Octacore processor and has a maximum clock speed of two GHz. In other words, this model of the I series was made keeping in mind the games. It uses hyper engine gaming technology. As a result, even if you are constantly playing games, the mobile phone does not heat up. Thanks to stereo sound control and the integration of e-sports technology, it is easy to participate in video game competitions from this smartphone. And you can enjoy the real competition sitting in mobile games. Even with Do Not Disturb mode, the game can be played on the device. As a result, the game will not be disrupted due to phone calls and text messages.
The Vivo I20G has 6 GB of RAM and 128 GB of ROM. However, the smartphone also has a separate system for using additional memory cards. A one-terabyte memory card can be used there.
The Vivo I20G also has side-mounted fingerprint technology. The touch of a finger will activate the screen for a third of a second. There is also the advantage of face unlock technology.
The I20G model has three cameras – the main camera is 13 megapixels, with a macro camera of two megapixels and a camera with a depth sensor of two megapixels. And the front camera is eight megapixels. The camera includes Face Beauty, Portrait Mood, Effects and Filter technology, which the company claims will make the image more attractive and vibrant.
The six-and-a-half-inch screen with high definition (HD +) resolution will impress the customer. Eye protection technology is attached to the screen, which prevents blue light that is harmful to the eyes.
In Bangladesh, the Vivo I20G will be available in obsidian black and purist blue.
Duke, CEO of Vivo Bangladesh, said that the Vivo I series is slowly becoming one of the most popular smartphones in Bangladesh. The I20G will make this series even more popular. This will give customers a different taste of mobile games. Long games can be played on the phone without any hassle.
Bangladesh time: 2015 hours, March 2, 2021
SHS / RIS