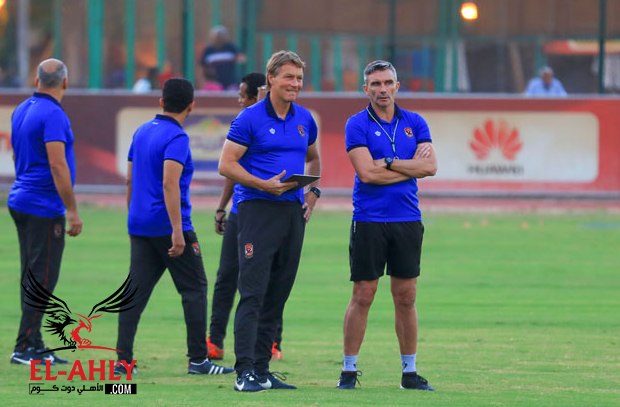 [ad_1]
Al-Ahli continued his daily training in preparation for their upcoming match against Esperance on Friday at the end of the Champions League Final.
The technical staff of the first team of the football club Ahli led by French Patrice Cartier, a powerful technical paraglider Almaran, saw a paragon division of players from two teams to make a division on the field with the goalkeeper.
Cartieron, the team's coach, focused on Cairo's last leg drills before heading for Tunisia on Tuesday morning. Cartier stopped the coach several times to guide the players and gave them some special instructions.
Cartieron is also dedicated to the paragraph at the end of the match for the penalty shootout. All Red team players registered in Africa participated in the paragraph before going to Tunisia to face Esperance.
Junior Ajai and Hisham Mohammed continued with their rehabilitation program in preparation for returning to participate in the group.
The goalkeepers fought strong under Mustafa Kemal, the goalkeeper coach and goalkeeper Sharif Ikrami, Mohamed El Shennavi and Ali Lutfi received different training models in preparation for the Esperance.
Michael Lindeman, the Al Ahli football team's first manager, made a special training for a group of non-African players on the margins of a team team held this morning at Tch Stadium.
The event was attended by Ahmad Al-Sheikh, Mohammed Sharif and Ahmed Alaa, as well as Amr Gamal, Amr Barakat and Mohamed Tariq.
[ad_2]
Source link