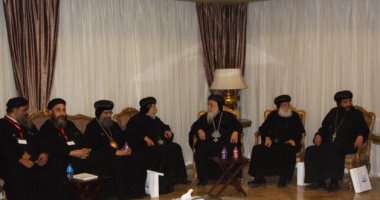 [ad_1]
Today, the Coptic Orthodox Cultural Center opened the activities of the scientific conference of the centenary of Sunday schools, which will last for three days under the auspices of His Holiness Pavel Tvadros II of Alexandria, Patriarch Blagovesti, in the presence of the 12th bishop of the Holy Synod.
Speaking at the opening of the conference, His Holiness Pope Benedict XIVI expressed his happiness at opening a science conference for Sunday schools and that he will be present in the coming days, given the conference a good opportunity to study and discuss the history of Sunday Schools.
In his speech at the opening of the conference, Bishop Daniel, the bishop of the churches of Maadi and the secretary of the Holy Synod, said that Pope Taujdros II, who sits on the throne of Marrakech, is interested in education through many ideas aimed at spreading education and that next year, Orthodoxy.
He added that the current conference was preceded by a multitude of celebrations in various churches and provinces, given that today's Dora Centennial conference speaks about past and hope for the future, stressing that the current conference will change the reality of Sunday schools in the future and that there should be recommendations plans to be implemented.
Secretary of the Holy Synod said that Pope Tavadros apologized today for his association of marking the 50th anniversary of the founding of St. George's Church in Alexandria, but will be present during the following days, thanks to Pope Jeremiah and the President of the Coptic Cultural Center for hosting the conference.
For his part, the president of the conference, Georges Saleh, emphasized that the conference is held as part of the celebration of the church in its 100th anniversary, highlighting the important role of Sunday schools in many generations, and that the celebrations that took place during the year were the idea of ​​His Holiness Papa Tvadros II For this conference for four years.
The aim of the conference is to gather experiences of Sunday schools, in addition to setting up a future framework for Sunday schools, and around 50 scientific papers have been prepared, including 7 topics to be discussed during the conference, and weekly schools are proud among all churches. The world.
Saleh thanked His Holiness Pope Tvadros II for sponsorship of the conference, and Archbishop Daniel, Archbishop of the Church of Maadi, Secretary of the Holy Synod and the Scientific Committee overseeing the conference.
The bishop Danil Bishop of Maadi, Secretary of the Holy Synod and Anba Martieros, the bishop of the eastern churches of the Eastern Railways, attended the conference.
The first session was the theme of "Sunday Schools in History", in which Abba Martiros, Patriarch Peter Al-Baramoussi, dr. Ishak Aiban, Dr. Josif Moris and Dr. Sinot Delvar and Dr. Sami Sabri.
[ad_2]
Source link