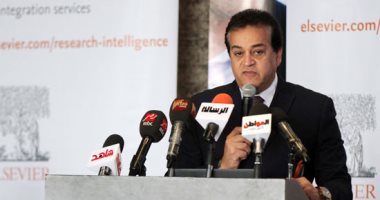 [ad_1]
On Thursday morning, dr. Khalid Abdel Ghaffar, Minister of Higher Education and Scientific Research, will be a witness at the University of Ain Shams Universitas.
This event is attended by Dr. Abdul Vahab Ezzat, University President and System Manager Abdul Hamid, Vice President of the Community and Environmental Development Department, Abdel Nasser Snajab, Vice President for Studies and Research, Samir Abdel Nasser, Secretary General of the University and Deans and Faculty Agents.
The General Federation of University Students will be elected today in all committees: the Family Committee, the Committee on Social and Travel Committee, the Sports Committee, the Technical Committee, the Culture and Information Committee, the Committee on Mobility and the Public Service and the Scientific and Technological Committee.
This is under the control of the Supreme Committee for the Supervision of Elections under the supervision of Dr. Nazmi Abdul Hamid, Vice President for community service and environmental development, as well as members: dr. Abdulvahab Gouda, Professor and Head of the Department of Art at the Faculty of Arts, Dr. Tamer Abdel-Moneim, Professor of Economics and Head of the Department of Economics, Assistant Director of the Department for Education and Student Affairs of the University, Sahar Mujahid, Director General of the General Directorate for Youth Protection, general coordinator for student activities Ibrahim Saeed, director of families and student unions Tarek Ahmad, Mariam Ali at the Faculty of Law, Faculty of Law.
[ad_2]
Source link