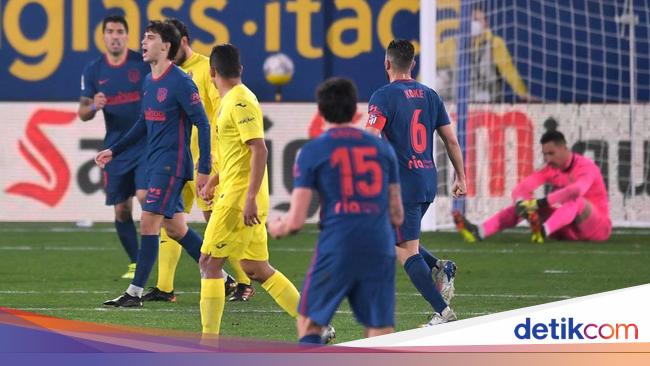 Villarreal –
Joao Felix contributed one goal in Atletico Madrid's 2-0 victory over Villarreal. His controversial celebration after the goal was in the spotlight.
Atletico's trip to the Villarreal headquarters at the Estadio de la Ceramica in the Spanish league continued on Monday (1/3/2021) early in the morning of VIB. Diego Simeone's team returned home with full points after the 2-0 victory.
Joao Felix was not named starter in this match after his disappointing performance when Atletico beat Chelsea in the Champions League. The Portuguese player came in only at the beginning of the second half to replace Thomas Lemar.
Joao Felix then scored in the 69th minute to double Atletico's lead and seal his team's victory. After breaking into Villarreal's goal, Joao Felik made a controversial celebration.
With his index finger on his lips, he was facing the Atletico bench. After that, the 21-year-old attacker looked angry as he shouted a few words.
There is no smile on Joao Felik's face even though he has just scored a goal for Atletico. It is also not clear when he directed his anger.
Diego Simeone didn't really mind the celebration of Joao Felik. The Argentine coach is actually happy when his players rebel.
"You have to ask him," Simeone said with a laugh, when asked about the celebration of Joao Felix. ESPN.
"He scored a good goal. He came in and did well in the second half. I love when the players rebel, when they look strong. That's what we need, he's an important player for us."
"I'll ask him at the next practice and I'll tell you. I love when players show pride. How long has it been since he scored a goal? If players like to rebel, give it to me!" Simeone added.
Joao Felix has appeared 29 times in all competitions with Atletico Madrid this season and scored 10 goals. Atletico itself has now collected 58 points at the top of the Spanish league table, five points ahead of Barcelona.
Watch the video "2-0 victory over Sevilla, Atletico pleasant at the top"
[Gambas:Video 20detik](nds / krs)