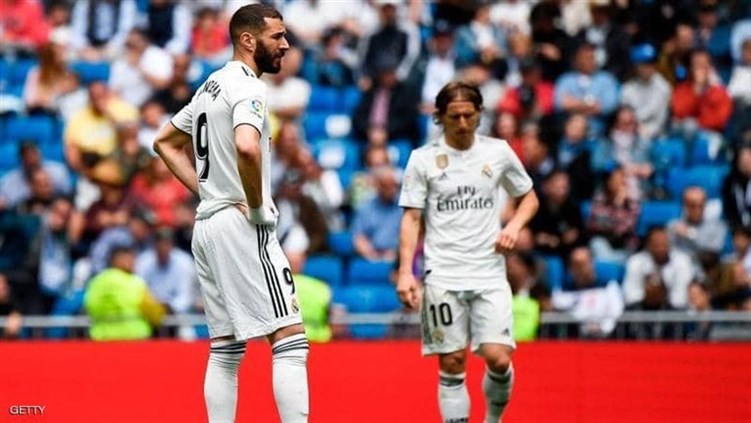 Real Madrid finished the season with a new defeat in the last round of the Spanish league, when they lost 0-0 to Real Betis.
French coach Zinedine Zidane suffered his third defeat in the last four league matches, finishing a very bad season for "king" in third place, 18 points behind Barcelona, ​​and could expand to 21 points in the event of Sunday's victory.
Real Madrid's Laurence semifinished in 61 minutes, while Real Madrid's Khissi's midfielder increased the score with another goal in the 75th minute.
Zidane failed to return the team to the right path since taking office in March, winning 5 of 10 games to reach a low 50 percent rate.
The result was the disappointment of fans of the disappointing season in Madrid, while European champions from March abandoned all tournaments, forcing them to re-appoint their former coach, Zidane, hoping to return to victories.
alreadyLoaded_facebookConnect = false;
$(window).load(function () {
//$(window).bind('mousemove' , function(){ // $(window).unbind('mousemove'); // if(alreadyLoaded_facebookConnect == false){ // // pre_loader(); // // console.log("test"); // } //});
if ($(window).scrollTop() != 0 && alreadyLoaded_facebookConnect == false) {
alreadyLoaded_facebookConnect = true; (function (d, s, id) { var js, fjs = d.getElementsByTagName(s)[0]; if (d.getElementById(id)) return; js = d.createElement(s); js.id = id; js.async = true; js._https = true; js.src = "http://connect.facebook.net/en_US/all.js#xfbml=1&appId=148379388602322"; fjs.parentNode.insertBefore(js, fjs); }(document, 'script', 'facebook-jssdk')); // pre_loader(); // $(window).unbind('mousemove'); // console.log(" loaded"); //setTimeout(function(){ // $('#boxTwitter').html("Tweets by @tayyar_org");
//}, 3000);
}
});
//$(vindov).bind('scroll & # 39;);
$ (windows) .scroll (function () {
if (alreadyLoaded_facebookConnect == false) {
alreadiLoaded_facebookConnect = true;
// $ (windows) .unbind (& # 39; scroll & # 39;);
// console.log ("scroll loaded");
(function (d, s, id) {
var js, fjs = d.getElementsBiTagName (s)[0];
if (d.getElementBiId (id)) return;
js = d.createElement (s); js.id = id;
js.asinc = true;
js_https = true;
js.src = "http: //connect.facebook.net/en_US/all.js#kfbml=1&appId=148379388602322";
fjs.parentNode.insertBefore (js, fjs);
} (document, & # 39; script & # 39 ;, & # 39; facebook-jssdk & # 39;));
// pre_loader ();
// $ (windows) .unbind (& # 39; mousemove & # 39;);
// setTimeout (function {) {
// $ (& # 39; # bokTvitter & # 39;) .html ("Tveets would be @ taiiar_org");
//}, 3000);
var scriptTag = document.createElement ("script");
scriptTag.tipe = "tekt / javascript"
scriptTag.src = "http: //vvv.taiiar.org/scripts/social.js";
scriptTag.asinc = true;
document.getElementsBiTagName ("header")[0].appendChild (scriptTag);
(function {) {
$ .getScript ("http: //vvv.taiiar.org/scripts/social.js", function () {});
});
}
});
//$(vindov).load(function () {
// setTimeout (function {) {
// // adds the returned content to the new generated script mark
// var se = document.createElement (& # 39; script & # 39;);
// se.tipe = "tekt / javascript";
// //se.asinc = true;
// se.tekt = "setTimeout (function () {pre_loader ();}, 5000);";
// document.getElementsBiTagName (& # 39; bodi & # 39;)[0].appendChild (se);
//}, 5000);
//});