Cold weather in Lithuania is recovering from colds and flu. The highest incidence of influenza is usually recorded in January-March. Both the World Health Organization and well-known Lithuanian doctors and epidemiologists constantly point out that vaccines are the best protection against this virus.
"We have invested a lot of effort in buying 100 percent. the amount of influenza vaccine requested by medical facilities. Influenza vaccination is still available in some medical facilities in the country. To get vaccinated, you need to contact your family doctor, "says Agne Dmitrijevaite, advisor to the Centrally Paid Medicines Department of the State Health Insurance Fund at the Ministry of Health (VLK).
The VLK also publishes a list of specific facilities where enrolled patients can still apply for the flu vaccine. Those treatment facilities that no longer have compensation for vaccines from health insurance funds, but there are people who still want to be vaccinated for free, must contact the Center for Infectious Diseases and AIDS. With the help of ULAC, institutions can get additional flu vaccines and vaccinate them for free.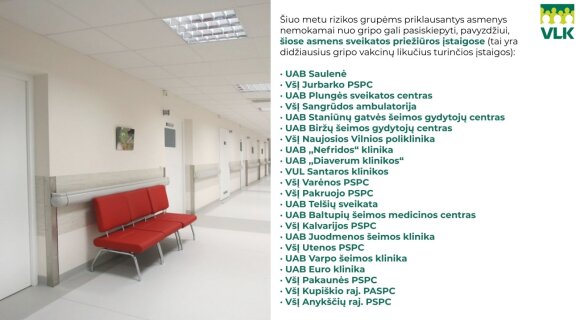 Where can I get the flu vaccine?
© VLK and BNS infographics
Specialists point out that this list of institutions is not exhaustive, it is a list of institutions with the most residues, and for certain residues in your personal health institution, you should contact your medical institution.
According to the National Center for Public Health (NVSC), it is certainly not too late to get vaccinated against the flu, and the incidence curve is growing, albeit slowly. However, since immunity develops within two weeks, it should not be delayed.
"Currently, it is time for the flu vaccination for the elderly, mostly among those who are at risk. Older people have a weaker immune system and the immunity that develops after the vaccine does not last as long as younger people who are vaccinated, for example, in early autumn.
And, of course, it is very important that flu vaccinations can protect against the complex complications of this disease, "says Daiva Razmuviene, chief specialist of the Department of Infectious Diseases Management of the NVSC.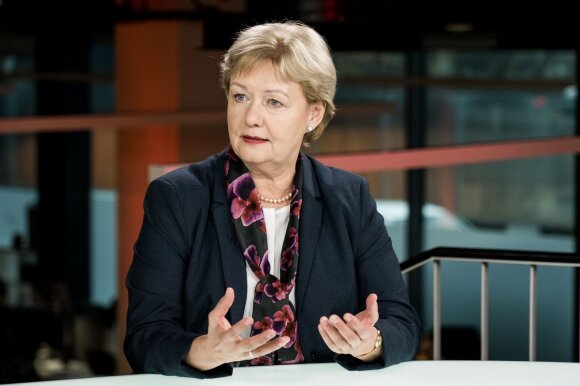 Daiva Razmuviene
© DELFI / Kirill Chekhovsky
Specialists from the health insurance funds remind that the flu vaccine, which is financed by the Compulsory Health Insurance Fund (PSDF), is intended for those who have the right to free vaccination. Currently, people over the age of 65 and patients of any age with chronic diseases (oncological, cardiovascular, respiratory, renal, etc.), pregnant women, as well as persons living in care and nursing facilities and medical staff are vaccinated free of charge in Lithuania. who are especially at risk of getting the flu when working with sick people. The flu virus is most dangerous for these at-risk individuals.
In preparation for the cold season, which this time is especially aggravated by the spread of coronavirus, VLK bought a total of almost 245 thousand. doses of tetravalent influenza vaccine – as much as 45%. more than yesterday. This required more than 2.3 million from the PSDF. euros. The last shipment of the flu vaccine this season – 37 thousand. the doses arrived in Lithuania in early December.
Experts call on all risky people who have not yet been vaccinated against the flu to do so immediately and as soon as possible. Residents are invited to consult with their family doctors for vaccination.
As already announced, the number of flu cases increased during the week. According to the NVSC, in the last week of last year, the total incidence of influenza and acute upper respiratory tract infections (CVD) was 22.8 cases per 10,000 cases. population, this indicator was higher in the previous week (25.4 cases per 10 thousand inhabitants).
It is reminded that in order to protect against the flu, it is also necessary to wash your hands often, avoid touching your nose, mouth or eyes with unwashed hands, not to visit places where people gather, often ventilate rooms, observe hygiene of coughing and sneezing.
It is strictly forbidden to use information published by DELFI on other websites, in the media or elsewhere or to distribute our material in any form without consent, and if consent is obtained, it is necessary to cite DELFI as a source.