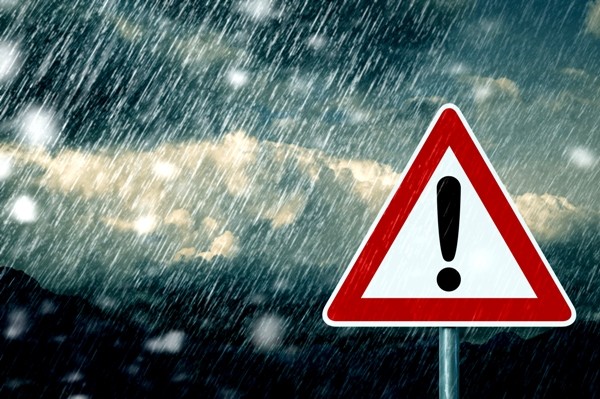 Heavy thunderstorms are expected from Thursday to Friday in several provinces of the Kingdom, the General Directorate of Meteorology (DGM) announced on Thursday, pointing out that snowfall is also expected from Saturday to Monday.
Thus, strong red level thunderstorms (estimated cumulative amounts: 110 to 150 mm) are expected from Thursday at 13:30 to Friday at 23:00 in the provinces of Agadir-Ida-Outanane, Taroudant, Essaouira, Tangier-Asilah, Fahs-Anjra, Mdik -Fnidek, Chefchaouen, Tetouan, Larache, Safi and the reliefs of Al Hoceima, specifies DGM in a special meteorological report, adding that these storm showers will be accompanied locally by hail.
Storms with orange hues (estimated cumulative amounts of 50 to 80 mm) will affect from Thursday at 13:30 to Friday at 23:00, the provinces of Inzegane-Ait-Melloul, Chtouka-Ait-Baha, Chichaoua, El Jadida, Berrechid, Nouasser , Casablanca, Mediouna, Mohammedia, Ben Slimane, Skhirat-Temara, Rabat, Sale, Khemisset, Kenitra, Sidi Kacem, Sidi Slimane, Ouezzane, Taounate, Sidi Bennour, Settat, El Hayeb, Fes, Moulai Iacoub, Sekrou, Taza , Sefgarou, Rehamna, Ioussoufia and Al Haouz. In addition, strong gusts of red wind (100 to 120 km / h) will affect the provinces of Essaouira, Safi, El Jadida, Ioussoufia, Rehamna, Sidi Bennour, Chichaoua, Al Haouz, Azilal, Ouarzazate, Tinghir, Midelt, Errachidia and Figuig, according to same source.
In addition, strong gusts of orange wind (75 to 90 km / h) are expected on Thursday in the provinces of Errachidia, Essaouira, Ouarzazate, Safi, Tarfaia, Taroudant, Tinghir and Zagora.
The same phenomenon will be of interest to the provinces of Assa-Zag, Benslimane, Berrechid, Casablanca, Chefchaouen, Fahs-Anjra, Larache, Mediouna, Mohammedia, Nouaceur, Settat, Tarfaia, Agadir-Ida-Ou-Tanane, Chtouka-Ait Baha, Guha Ifrane, Inezegane, Ait Melloul, Jerada, Marrakech, Rabat, Sale, Sidi Ifni, Skhirate-Temara, Tan-Tan, Tata and Tiznit, DGM said. Snowfall from 1,400m, orange level of alertness (20 to 30 cm in 24 hours), will affect from Saturday to Monday, the provinces of Ifrane, Khenifra, Midelt, Beni Mellal, Azilal, El Haouz, Chefchaouen, El Houceima, Taroudant, Boulemane, Sefrou , Taza and El Hayeb.
Cold weather will also be of interest, from Saturday, to the High and Middle Atlas region, the Reef and the Phosphate Plateau, Oulmes and the Oriental.