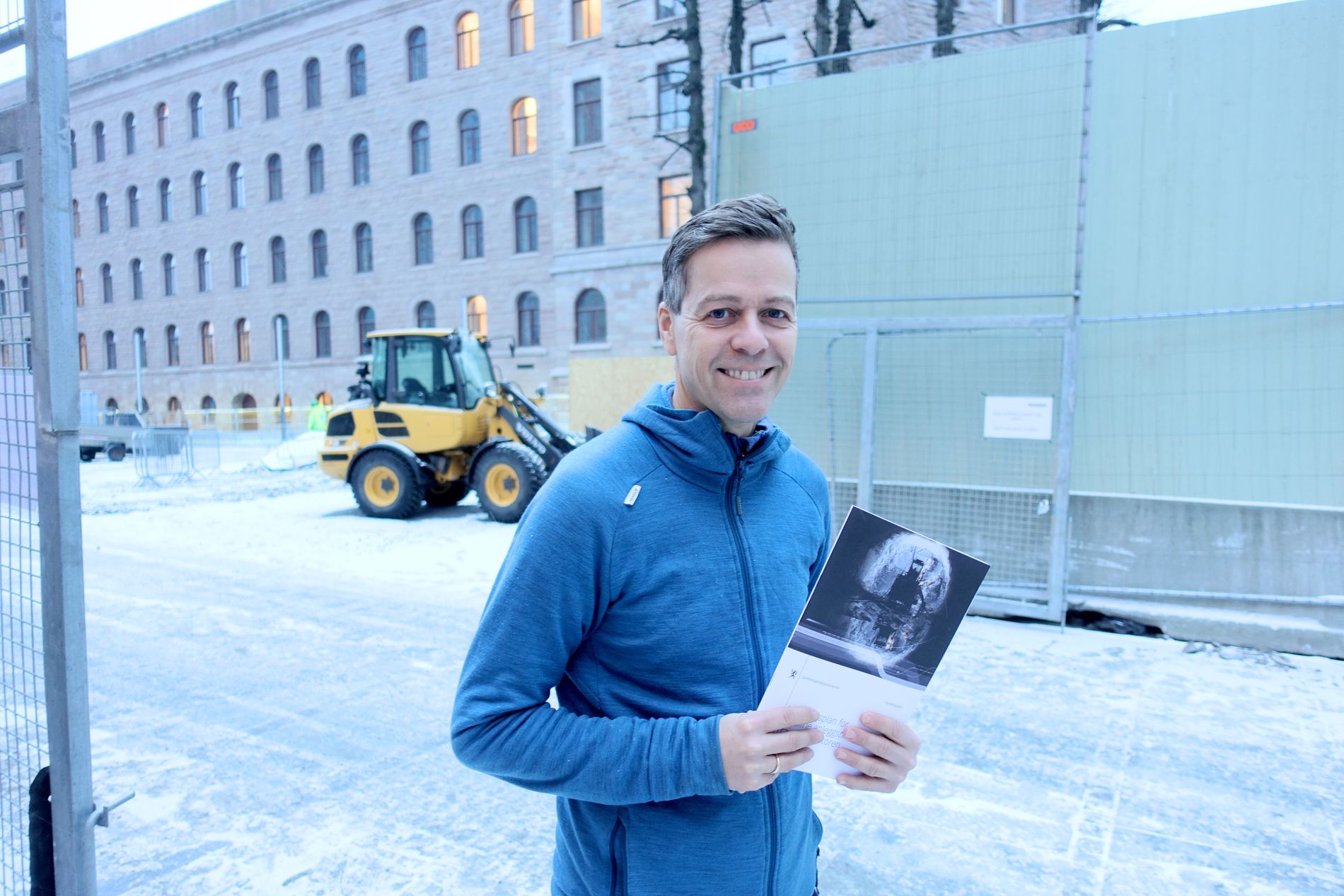 Electric excavators are three times more expensive than diesel engines. Transport and Communications Minister Knut Arild Hareide will begin pilot projects for fossil-free construction sites, according to a recent action plan.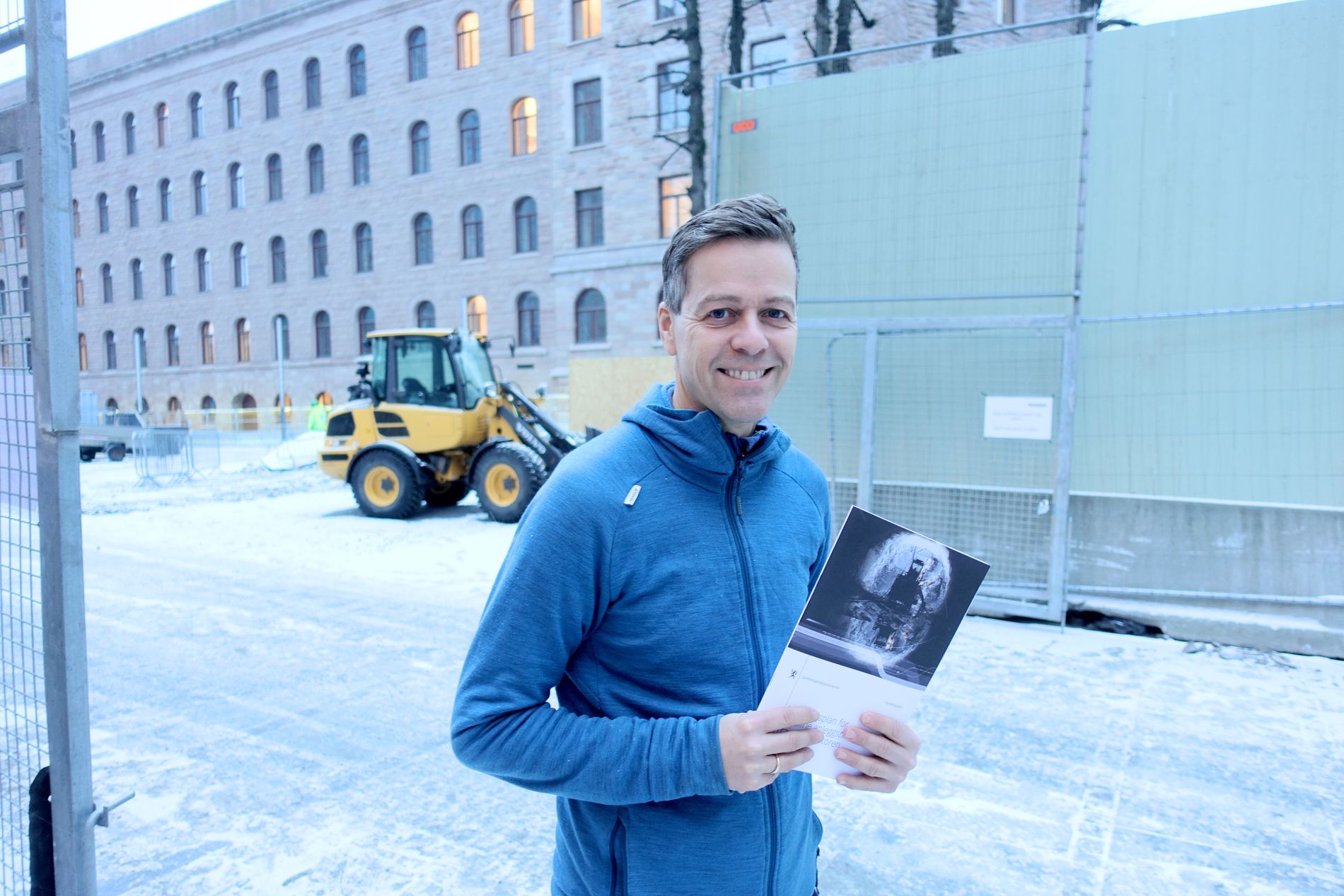 The government's main climate plan followed last week. There, an action plan was announced to reduce emissions from construction machinery used to build roads, railways and airports.
On Tuesday, the government will present an "Action Plan for Fossil-Free Construction Sites in the Transport Sector".
Here the government makes a request which is also mentioned in the government statement from Granavolden.
– Our goal is to have construction sites without fossils by 2025, says Minister of Transport Knut Arild Hareide (KrF) for E24.
– Then you're in a hurry?
– Yes, we are busy with this business. But we have seen that when we manage to reverse this trend, it goes very fast, says Hareide.
also read
This is Solberg's climate plan
It will support pilot projects
An important measure in the action plan is to inform the agencies and companies of the Ministry of Transport to launch pilot projects for construction sites without fossils.
It will mitigate the risk for suppliers in the transport sector, so that they can use equipment powered by, for example, batteries or hydrogen. Both rail and road projects can be relevant as pilot projects.
In addition, the public sector will place stricter requirements for fossil-free solutions through its procurement. Municipalities, county municipalities and the state purchase goods, services and construction works for a total of about 560 billion NOK per year.
– In tender processes, it can be more important if you deliver without fossils, we design pilot projects and use our purchasing power as a state and a great developer. I think these are the most important measures in this plan, says Hareide.
also read
Climate work: – Too weak
They will make demands
Minister of Climate and Environment Sveinung Rotevatn (V) believes that the state must contribute to increasing the demand for construction machinery.
– If Norway is to become a low-emission society, it is not enough to just travel green, but we must build roads, tunnels, railways and airports in a climate-friendly way, says Rotevatn.
– It is expensive for contractors to procure zero-emission machines. To reduce costs and accelerate technology development, the state will contribute by increasing demand for zero-emission machines. Public procurement requirements are a good means of reducing emissions from construction sites in the transport sector, he says.
also read
Erne Solberg's climate plan will probably give more expensive plane tickets: – It will definitely work
It will cost money
It is far more expensive for contractors to buy emission-free excavators, wheel loaders, dump trucks and other construction machinery compared to diesel-powered machines.
Machines in the construction industry typically have a lifespan of about seven years, and a clear government order to march could potentially contribute to suppliers switching to fossil-free the next time they buy a machine.
– This will naturally have a cost side. That is why it is so important that we give these signals now, because then the players can also turn around and have time to adjust. Then the costs are often lower than if they come suddenly, says Hareide.
– Are the measures from this action plan sufficient to achieve the goal?
– It is clear that we are having a bad time, but I think that by 2025 we will go very far, he says.
also read
The government wants to more than double the price of CO₂ for the oil industry
also read
Environmental organizations want a broader climate plan: – Protects oil
The CO₂ and Enova taxes will contribute
Norwegian construction sites emit up to 700,000 tons of CO₂ equivalents per year, partly due to diesel engines.
The transport sector in Norway accounts for a total of 15.5 million tonnes of emissions per year. With the current policy, it is expected that these emissions will fall to 10.4 million tons in 2030, according to the projections in the state budget for 2021.
In the climate plan from last week, the government announced that it would increase the CO₂ tax to 2,000 NOK per tonne in 2030, from about 590 NOK today. This will also affect diesel-powered construction machinery.
"Estimates estimate that this could lead to a sharp reduction in emissions," the government wrote.
In addition, the state of Enova will contribute with support, as they do today.
"Among other things, Enova supports solutions for renewable energy sources and the purchase of zero-emission machines for use on construction sites," the government writes.
Cheaper to work
Electric excavators are about three times more expensive than fossil machines. With Eno's support, the electric machine is about twice as expensive. At the same time, suppliers are saving on diesel costs.
"Although the investment costs are higher for zero-emission engines than for conventional diesel engines, operating costs will be lower," the government writes.
According to the action plan, it is theoretically possible to get zero-emission machines for a complete construction site if requested. Such machines today are mostly rebuilt from fossil fuels. The market for such machines will mature only when they are put into serial production, the government points out.
It takes a lot of strength
For contractors, it can be a headache about where the power to charge a large number of giant machines in buildings will come from.
Construction sites in the transport sector can stretch over large areas and do not always have access to large electrical outlets, the action plan points out.
"The potential for electric drive is greatest near cities that already have good electricity infrastructure with opportunities for high energy consumption. "The challenges in the development of railways and roads are access to electricity on the construction site and the possibility of charging high power," the government writes.
– Do you want to provide support for batteries and other infrastructure needed for these machines?
– Maybe it is part of these pilot projects that have been discovered, says Hareide.
also read
Expect a concrete climate plan: – We must be honest: This will not be easy
Oslo makes demands
Last year, the municipality of Oslo told E24 that it would set requirements for emission-free construction sites, which could have consequences for future projects such as Fornebubanen and the construction of a new headquarters for the PRC.
– Why don't you make this a condition?
– We can also help make requests. Then the question arises whether we should make it absolute or say that it is important in tenders, says Hareide.
– My experience is that both industry and public actors are offensive here and I think we will achieve very good results, and then I think it is very good with the types of signals that Oslo gives, among other things, he says.
also read
Now comes the government's main climate plan: – It will probably be a big deal
also read
The E24 hydrogen map shows investments across Norway: – It's really on its way
also read
Now comes the government's main climate plan: – It will probably be a big deal
Source link