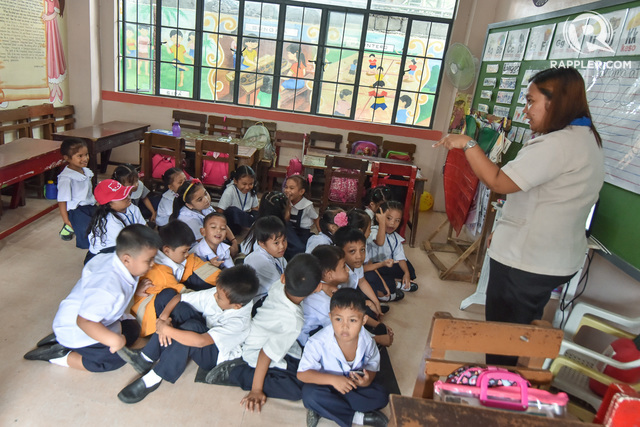 [ad_1]
Multidimensional poverty index of branch office for statistics reveals cracks in the country's education system

MANILA, Philippines – The state of the education sector in the Philippines has remained problematic, according to the latest data from the Philippine Statistics Authority (PSA) on Wednesday, November 14th.
For the first time, the agency has discovered its multi-dimensional poverty index (MPI), which collects deprivation in different dimensions.
It has been shown that the educational dimension had the largest share in total deprivation in 36.5% and 36.9% in 2016 and 2017.
Moreover, the study said that 6 out of 10 families in 2016 and 5 out of 10 families in 2017 were deprived of basic education. (FAST FACTS: What to know about the PH system)
It also showed that 6 out of 10 families had at least one family member over 18 years of age and above who had not completed primary education in 2016. In 2017, the number was 5 out of 10.
In the meantime, the health and nutrition dimension is in second place, which contributed 26.2% of the deprivation in 2016 and 27.5% in 2017.
The share of MPI apartments, water and sanitation was 26.4% in 2016 and 27.4% in 2017.
Employment measures had the least participation in MPI.
Multidimensional Poverty Index
This is the first time that PSA announces MPI. The index takes into account 13 indicators, which are grouped into 4 dimensions:
Educational dimension
School server
Level of Education
Dimension of health and nutrition
Hunger
Consumption of food
Health Insurance
Dimensions of housing, water and sanitation
Ownership of property
Toilet facility
Source of water supply
Housing status
Housing materials
Electricity
Employment dimension
Unemployment
Doing children not at school
The index uses a combined set of data on the annual Poverty Indicators Survey (APIS) and the Labor Force Survey (LFS) by PSA 2016 and 2017.
The combined data sets have 5,324 families for 2016 and 4,202 for 2017.
The Filipino is identified as multidimensionally deprived if he or she is deprived of at least 4 of the 13 indicators.
In 2017, the multidimensional injured Filipinos were estimated at 17.3%. In 2016, they were 23.9%.
Regarding the intensity of their deprivation, they were on average multi-dimensionally deprived of 41.2% and 43.2% of the indicators in 2017 and 2016. – Rappler.com
[ad_2]
Source link