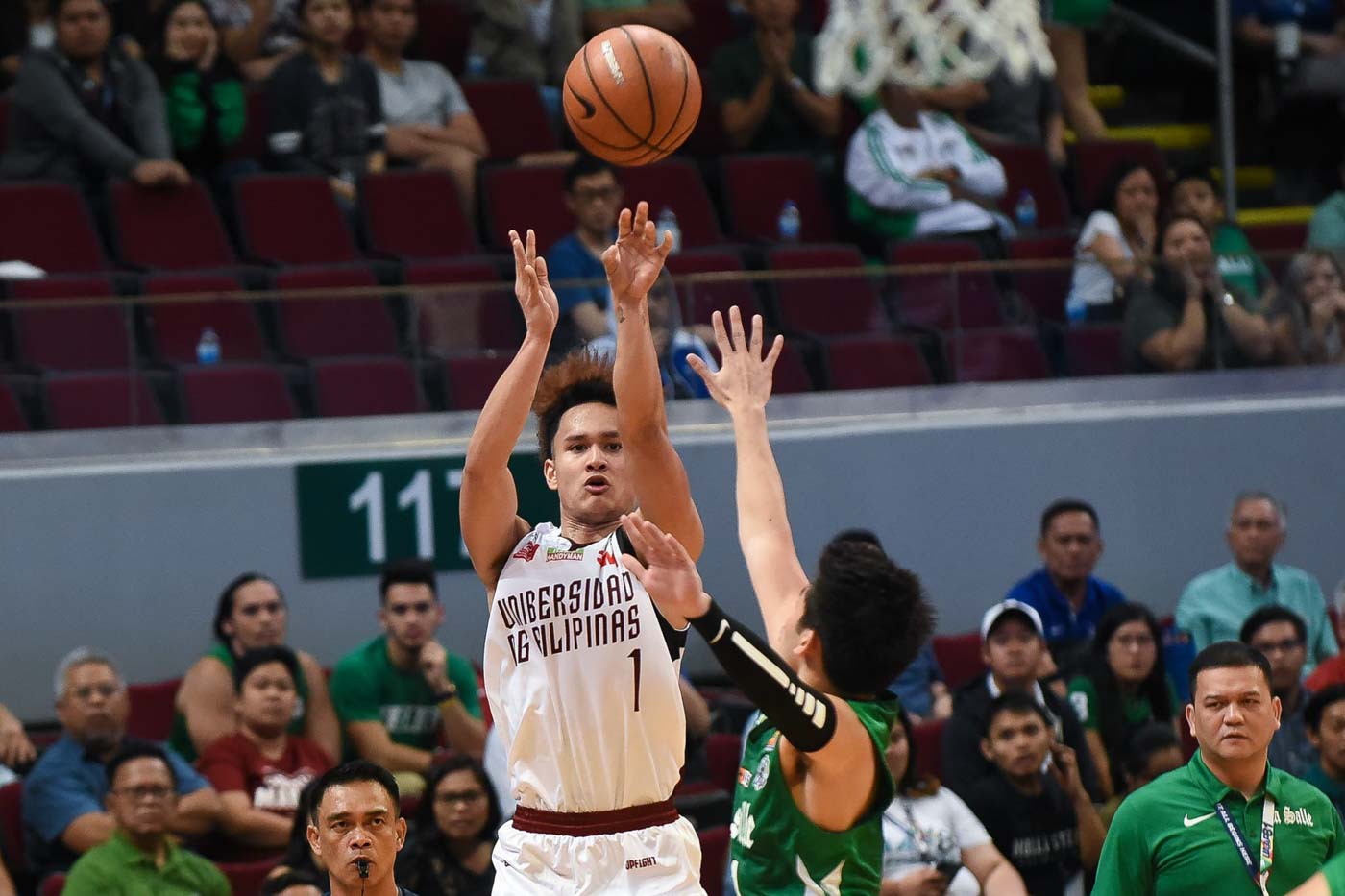 [ad_1]
After several decades of crash, Maroon fighters return to the final quarter after the sudden launch of the La Salle Green Shooter

Manila, Philippines – The star of the University of the Philippines, Juan Gomez de Liano, was not even born, but the last time Maroons arrived at the Final Four in UAAP.
Yes, it was so long.
But UP has finally ended two decades of misery, as Maroons surprisingly directed La Salle Green Archers, 97-81, to win the semifinals for the first time in 21 years.
The Maroons went out of the start and held the Green Arrows at a safe distance – more than 20 points for most of the match – on the road to dampen number 3 on the last day of eliminating men in the Mall of Asia Arena basketball on Wednesday, November 14th.
Gomez de Liano cleared 27 points to 4 assists and 3 rebounds to lead Maroons to a key win, setting the stage for a semifinal break between UP and No 2 Adamson Falcons.
Huan's brother Javi also played, unloading 19 points, and Bright Akhuetie caught 20 rebounds and left with 16 markers for Maroons who broke longest active final fourth drought.
Maroons last reached the final quarter of 1997.
UP completed its elimination campaign with an eight-month template, the same record as La Salle, and perhaps with the Far Eastern Universita if Tamaravs wins on Sunday. However, Maroons secured number 3 – even if the three schools ended up in the trojan log – because of the superior quotient.
Fierce Maroons broke the lead of 14 points, 37-23, from the fourth trio Juan Gomez de Liano in the middle to the second.
UP would extend this result to 26, 59-33, with a wide open schedule from Jun Manz at 7:20 mark third.
La Salle made a small purchase in fourth place, but Marooni responded with three rectangular bombs from Javi Gomez de Liano and Paul Desiderio, 84-62, and the remainder was more than 5 minutes in regulation.
Justin Baltazar defeated La Salle with 22 points and 7 records, while Aljun Melecio scored 19 points and 6 assists.
the results
UP 97 – Ju. Gomez de Liano 27, Ja. Gomez de Liano 19, Akhuetie 16, Desiderio 10, Manzo 6, Jaboneta 5, Dario 5, Tungcab 3, Gozum 2, Lim 2, Prado 2, Murrell 0, Vito 0.
DLSU 81 – Baltazar 22, Melecio 19, Karakut 12, Samuel 8, Santillan 6, Montalbo 5, Serrano 5, Bates 2, Manuel 2, Dike 0.
Neighbor: 25-17, 52-29, 75-54, 97-81.
– Rappler.com
[ad_2]
Source link