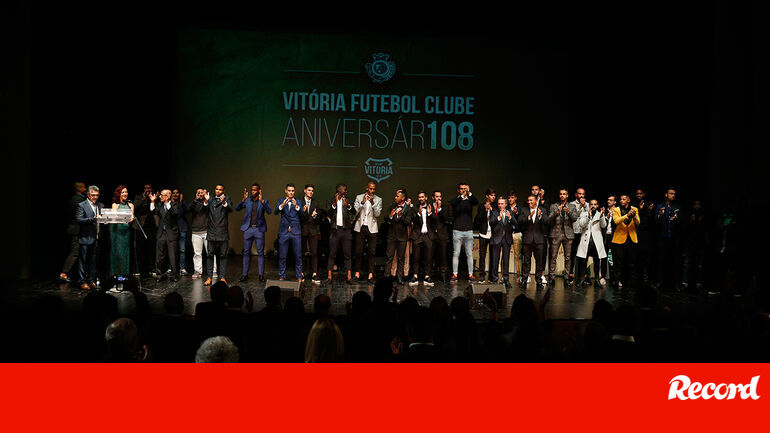 Cristiano Ronaldo, Juventus and Jose Mourinho, Man United, celebrated yesterday's presence, via video, on the gala marking the 108th anniversary of V. Setubala. In the night, Jose Semedo was awarded the Player of the Year, CR7 sent a message congratulating his friend, "Semi", and congratulated Vitória, a gesture that was also repeated by the Special.
"Semi, that's to send you a big hug, brother, you're from the family and I'm honest to have won this award in a great Vitória! A club I love and follow," Cristiano said. As far as Mourinho, who had Silvino Louro and Ricardo Formosinho, it was complicated. "Here from the Victorians of Manchester there is a great embrace for all, many and many years of life and history," he said.
Who also sent video messages at the party were Jose Fonte and Silvestre Varela, international A for Portugal, who went through Bonfim together. Andre Sousa, the son of former captain and trainer, Helio Sousa, was named the best young player, and Tomas Azevedo is the discovery. In football, Sandro Mendes (former captain and current sports director) and Carlos Cardoso (former glory of the 1960s and 1970s and former coach) received awards for recognition.
President, Vitor Hugo Valente, was confident. "We want to stabilize football in the First League, designing new paths and goals that will fit Victory in line with the past and fighting for places that allow access to Europe. We will arrive here, it is our dream," he stressed, taking positive 11 months in Office: "We are fighting to alleviate the desperate inequalities that exist in the Portuguese football."
In addition to the teams trained by Lito Vidigal, League leaders Pedro Proenza and Maria das Dores Meira, the mayor of the City Assembly of Setubal, were present on the night that they had members with 25, 50 and 75 years of membership. Player Zekinha received silver.