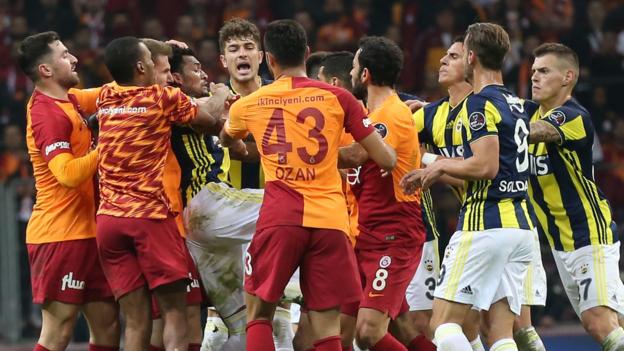 [ad_1]
Former Tottenham striker Roberto Soldado was one of five players suspended after Galatasaray-Fenerbahce last week.
Members of both teams exchanged strikes after Friday in the 2-2 Super League.
Soldado, 33, who joined Fenerbahce from Villarreal in 2017, was one of three players sent and Spaniard banned in six games.
Jenson Sikueira of Fenerbahce received a ban on eight games and Galatasaray Badou Ndiaie five games.
The head of Galatasaray Faith Terim received a seven-match ban for insulting the referee and for comments he made at a news conference after the match.
Hasan Sasu has been banned from assisting eight members for attacking members of the opposition.
The midfielder Galatasaray Garri Mendes Rodrigues and Ryan Donk were banned for three and six games for disproportionate behavior.
Both teams were also fined.
[ad_2]
Source link