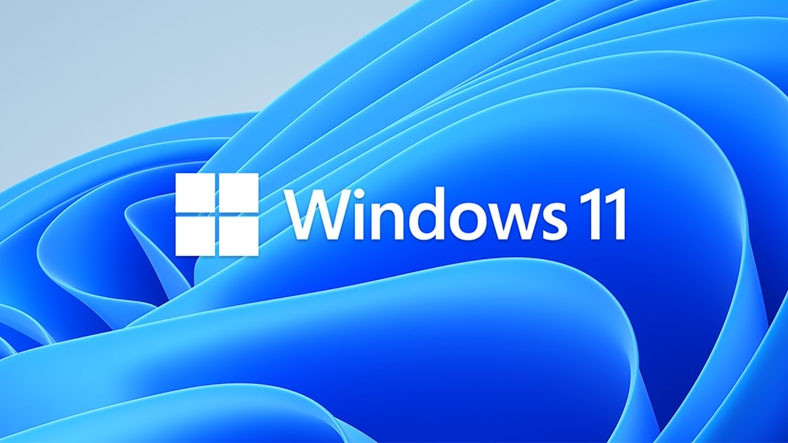 A version of Windows 11 with the code "22000.100", prepared for developers, has been made available. This version fixes some operating system errors and comes with some new features. Here's what you need to know about the latest version of Windows 11.
Released the first version of the Windows 11 system review about a month ago. Microsoftannounced in today's statement the release of the latest version of a new operating system designed for developers. "22000.100"The encoded version brings some new features to Windows 11, while correcting some known bugs.
Microsoft Windows 11 Insider Preview Build 22000.100 When we look at the coded update, we see that visual changes come to the fore. Users will see some news on the taskbar with this update, especially the hidden icon menu. He also received an update of the new version in the Microsoft Store and with brand new animations made available to users.
Here are some innovations in the latest version of Windows 11
The biggest innovation in the Insider version of Windows 11 with the code 22000.100, hidden icons is in the section. Users will begin to see the new icons of all applications in this menu with the latest update. In addition, the Notification Center next to this section now has new functionality. Users can use this menu directly. Focus Assist They will be able to go to their settings and ensure that future notifications are quietly transferred to the notifications menu.
RELATED NEWS
NVIDIA has released a graphics driver for Windows 11 not yet released
One of the impressive features in the new version of the Windows 11 operating system is on the taskbar welcomes us. The developers used a flashing warning light about applications running in the background in the Windows 11 operating system. In this way, the user could see applications that are tiring the computer in the background. This feature is not a distraction has been redesigned. Users will now see a tablet-like shape that will still glow red after blinking for a while.
Microsoft's only work on Windows 11 was not limited to them. The company, which also works on the Start menu, Settings, File Explorer, Search and Widgets section, is now more optimizes made Offers an operating system. Also, in these sections errors is also largely resolved.
By the way, the update of Windows 11 Insider Preview Build 22000.100 is still some problems contains. Statements made by Microsoft state that the taskbar can sometimes flicker, text entry into the home menu cannot be performed, or the taskbar search option cannot be used. However, these errors the work continues you doing and it seems that Microsoft will solve all these problems in the coming periods.
Source :
https: //blogs.vindovs.com/vindovs-insider/2021/07/22/announcing-vindovs-11-insider-previev-build-22000-100/
$(function(){
//facebook window.fbAsyncInit = function() { FB.init({ appId : '1037724072951294', xfbml : true, version : 'v2.5' }); };
(function(d, s, id){ var js, fjs = d.getElementsByTagName(s)[0]; if (d.getElementById(id)) {return;} js = d.createElement(s); js.id = id; js.src = "https://connect.facebook.net/tr_TR/sdk.js"; fjs.parentNode.insertBefore(js, fjs); }(document, 'script', 'facebook-jssdk'));
$('body').on({ click: function() { // facebook save button ajax FB.XFBML.parse(); } }, '.facebook-save');
// share scroll if ($('.content-sticky').length > 0) { if ($(window).width() >= 768) { $(window).on('scroll', function () { var scrollTop = $(this).scrollTop(); $('article').each(function () { if (scrollTop >= ($(this).find('.content-body').offset().top - 76)) { $(this).find('.content-sticky').addClass('sticky'); if (scrollTop >= ($(this).find('.content-body').offset().top + $(this).find('.content-body').height() - ($(this).find('.content-sticky').height() + 92))) { $(this).find('.content-sticky').removeClass('sticky'); $(this).find('.content-sticky').css({'bottom': '0px', 'top': 'auto'}); } else { $(this).find('.content-sticky').addClass('sticky').css({ 'bottom': 'initial', 'top': '76px' }); } } else { $(this).find('.content-sticky').removeClass('sticky').css({'bottom': 'auto', 'top': '0'}); } }); }); } }
// share click $('body').on({ click: function (){ var $this = $(this), dataShareType = $this.attr('data-share-type'), dataType = $this.attr('data-type'), dataId = $this.attr('data-id'), dataPostUrl = $this.attr('data-post-url'), dataTitle = $this.attr('data-title'), dataSef = $this.attr('data-sef');
switch(dataShareType) { case 'facebook': FB.ui({ method: 'share', href: dataSef, }, function(response){ if (response && !response.error_message) { updateHit(); } });
break;
case 'twitter': shareWindow('https://twitter.com/intent/tweet?via=webtekno&text="+encodeURIComponent(dataTitle) + " %E2%96%B6 ' + encodeURIComponent(dataSef)); updateHit(); break;
case 'gplus': shareWindow('https://plus.google.com/share?url=" + encodeURIComponent(dataSef)); updateHit(); break;
case "mail': window.location.href="https://news.google.com/__i/rss/rd/articles/mailto:?subject=" + encodeURIComponent(dataTitle) +'&body='+ encodeURIComponent(dataSef); //updateHit(); break;
case 'whatsapp': window.location.href="whatsapp://send?text=" + encodeURIComponent(dataTitle) +' %E2%96%B6 '+ encodeURIComponent(dataSef); updateHit(); break; }
function shareWindow (url) { window.open(url, "_blank", "toolbar=yes, scrollbars=yes, resizable=yes, top=500, left=500, width=400, height=400"); }
function updateHit () { $.ajax({ type: "POST", url: dataPostUrl, data: {contentId: dataId, contentType: dataType, shareType: dataShareType}, success: function(data) {
if ($('.video-showcase').length > 0) { var $container = $('.video-showcase'); } else if ($('article[data-id="' + dataId + '"]').length > 0) { var $container = $('article[data-id="' + dataId + '"]'); } else if ($('.wt-share-item[data-id="' + dataId + '"]').length > 0) { var $container = $('.wt-share-item[data-id="' + dataId + '"]'); } else { $container = null; }
//var $container = dataType == 'video' ? $('.video-showcase') : $('article[data-id="' + dataId + '"]');
if ( $container != null && $container.length > 0 ) { var $badged = $container.find('.wt-share-badge-' + dataShareType);
var $headerCount = $('.content-header').find('.wt-share-count'), $containerCount = $container.find('.wt-share-count'), value = parseInt($containerCount.html()) + 1;
$container.data('share', value); //$containerCount.html(value);
if ($headerCount.length > 0) { //$headerCount.html(value); }
if ( $badged.length > 0 && (dataShareType == 'facebook' || dataShareType == 'twitter')) { if ($badged.hasClass('is-visible')) { //$badged.html(data); } else { //$badged.addClass('is-visible').html(data); } } }
} }); } } }, '.wt-share-button') });