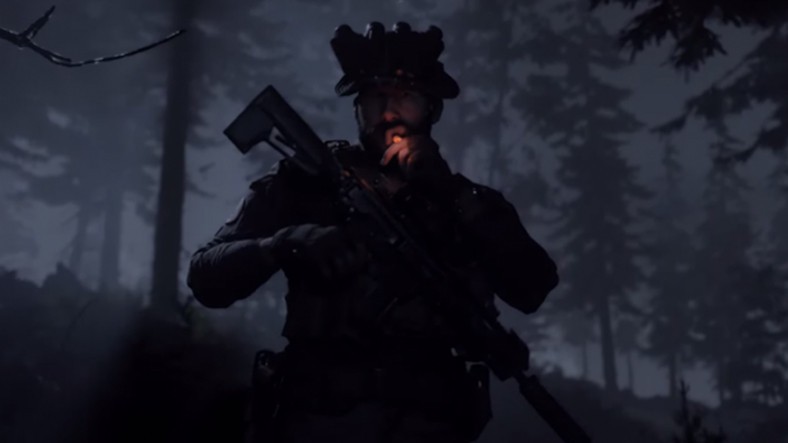 The Call of Duti series, which has left its mark for the last 16 years of the world of games and has become immortal with its unforgettable stories, has returned to its essence. The fourth game of Modern Warfare, published in 2007, is just out of the ashes. The new Call of Duty: Modern Warfare is officially launched.
The Call of Duti series is the fourth game of Modern Warfare, which is still played by millions of players, with a high brand value. Even after this 3-game series, the game fell into the big gap. In recent years the series has also been technically restored, but the expectations of players have always been greater.
In the meantime, the Call of Duty series has come with many productions and DLCs that will not be the right one for most players. In the end, after many years of waiting, Activision introduced Call of Duti: Modern Varfare, which is different in every way. Yes, this time there is no "4" in the name of the game. Indeed, this is not the only difference.
Call of Duty: Modern Warfare
The new Modern Varfare, as it turned out, will have a story. Captain Price "The rules have changed. We have a clear line hidden in shadows between good and bad." offers a dramatic introduction. Then we see some battles, game sequences and those familiar with the series. The trailer ends with the classic sound animation series.
The new Call of Duty: Modern Varfarre will also have support for all platforms on the PC and console. Christmas will reach an important point in multi-plaier competition between the platforms. Activision's Modern Warfare will meet players on October 25th to meet contemporary requirements.
As the details become clearer, we will continue to transmit you.
$ (Function () {
// Facebook vindov.fbAsincInit = function () { fb.init ({ appId: & # 39; 1037724072951294 & # 39 ;, kfbml: true, version: & # 39; v2.5 & # 39; }); };
(function (d, s, id) { var js, fjs = d.getElementsBiTagName (s)[0]; if (d.getElementBiId (id)) {return;} js = d.createElement (s); js.id = id; js.src = "http: //connect.facebook.net/sr/sdk.js"; fjs.parentNode.insertBefore (js, fjs); } (document, & # 39; script & # 39 ;, & # 39; facebook-jssdk & # 39;));
$ (& # 39; Body & # 39;). Ten ({ click: function () { // facebook save button ajak If fb.kfbml.p (); } }, & # 39; .facebook-save & # 39;);
// share scroll if ($ (& # 39; content-adhesive & # 39;) length> 0) { if ($ (windows) .vidth ()> = 768) { $ (Windows) .on (& # 39; scroll & # 39 ;, function () { has scrollTop = $ (this) .scrollTop (); $ (& # 39; article & # 39;). each (function () { if (scrollTop> = ($ (this) .find (& # 39;. content-bodi & # 39;) offset (). top - 76)) { $ (This) .find ("Content-sticky.") AddClass ("Sticky."); (($ (this) .find ("content-bodi") offset (). top + $ (this) .find (& # 39;. content-bodi & # 39;) height ) - ($ (this) .find (& # 39;. content-sticki & # 39;) height () + 92))) { $ (This) .find ("Content-sticky.") RemoveClass ("Sticky."); $ (this) .find (& # 39;. content-sticki & # 39;). css (& quot; bottom & # 39; 0pk & apos; & apos; top & # 39; & quot; auto & # 39;}); } else { CSS $ (This) .find (& # 39; Content-Sticky & # 39;). AddClass ("Sticky"). ({ & # 39; bottom & # 39 ;: & # 39; initial & # 39 ;, & # 39; top & # 39 ;: & # 39; 76pk & # 39; }); } } else { $ (this) .find (& # 39; content-sticki & # 39;). removeClass (& quot; sticki & quot;). css (& quot; bottom & quot;: auto & # 39; top & # 39;: & gt; & lt; 39 & gt; } }); }); } }
// share a click $ (& # 39; Body & # 39;). Ten ({ click: function () { var $ this = $ (this), dataShareTipe = $ this.attr (& # 39; data-share-type & # 39;), dataTipe = $ this.attr (& # 39; data-type & # 39;), dataId = $ this.attr (& # 39; data-id & # 39;), dataPostUrl = $ this.attr (& # 39; data-post-url & # 39;), dataTitle = $ this.attr (& # 39; data-title & # 39;), dataSef = $ this.attr (& # 39; data-sef & # 39;);
svitch (dataShareTipe) { case & # 39; facebook & # 39 ;: fb.u of ({ method: "share", href: dataSef, }, function {answer} if (answer &&! ansver.error_message) { updatehit (); } });
break;
case & # 39; tvitter & # 39 ;: t shareVindov (& # 39; https: //tvitter.com/intent/tveet? via = webtekno & tekt = & # 39; + encodeURIComponent (dataTitle) + & # 39;% E2% 96% B6 & # 39; + encodeURIComponent )); updatehit (); break;
The case of 'gplus': # shareVinds (& # 39; https: //plus.google.com/share? url = & # 39; + encodeURIComponent (dataSef)); updatehit (); break;
case & # 39; mail & # 39 ;: vindov.location.href = & # 39; mailto:? subject = & # 39; + encodeURIComponent (dataTitle) + & # 39; & bodi = & # 39; + encodeURIComponent (dataSef); // updatehit (); break;
case & # 39; vhatsapp & # 39 ;: vindov.location.href = & # 39; vhatsapp: // send? tekt = & # 39; + encodeURIComponent (dataTitle) + & # 39;% E2% 96% B6 & # 39; + encodeURIComponent (dataSef); updatehit (); break; }
function shareVinds (url) { vindov.open (url, "_blank", "toolbar = yes, scrollbars = ies, resizable = yes, top = 500, left = 500, vidth = 400, height = 400"); }
function updateHit () { $ .Ajak ({ type: "POST", url: dataPostUrl, data: {contentId: dataId, contentTipe: dataTipe, shareTipe: dataShareTipe}, success: function (data) {
if ($ ("video-shovcase") length> 0) { var $ container = $ (& # 39; video-window & # 39;); } else if ($ (& # 39; article[data-id="' + dataId + '"]& # 39;) .length> 0) { var $ container = $ (& # 39; article[data-id="' + dataId + '"]& # 39;); } else if ($ (& # 39; vt-share-item[data-id="' + dataId + '"]& # 39;) .length> 0) { var $ container = $ (& # 39;. vt-share-item[data-id="' + dataId + '"]& # 39;); } else { $ container = null; }
// var $ container = dataTipe == & # 39; video & # 39;? $ (& # 39; video-show & # 39;): $ (& apos;[data-id="' + dataId + '"]& # 39;);
if ($ container! = null && $ container.length> 0) { var $ badged = $ container.find (& # 39; vt-share-badge - & # 39; + dataShareTipe);
Find $ headerCount = $ (& # 39;. content-header & # 39;). find (& # 39; .vt-share-count & # 39;), $ containerCount = $ container.find (& # 39; vt-share-count & # 39;), value = parseInt ($ containerCount.html ()) + 1;
$ container.data (& # 39; share & # 39; value); //$containercount.html(valu A);
if ($ headerCount.length> 0) { //$headercount.html(valu A); }
if ($ badged.length> 0 & & (dataShareTipe == & # 39; facebook & # 39; || dataShareTipe == & # 39; tvitter & # 39;)) { if ($ badged.hasClass (& visible; # 39;)) { //$badged.html(dat A); } else { //$badged.addclass('is-visible').html(dat A); } } }
} }); } } }, & # 39; .vt-share-button & # 39;) });
Source link