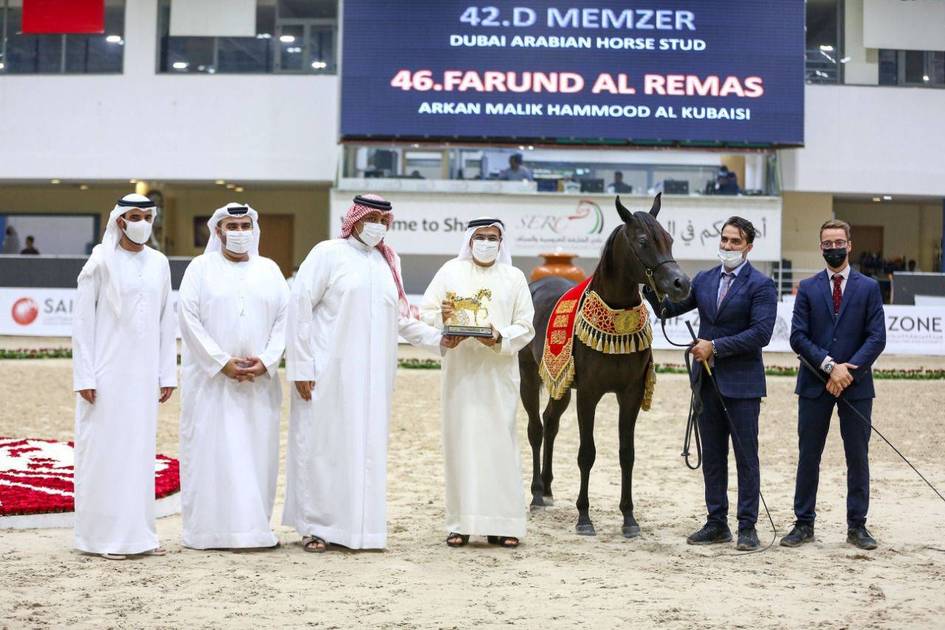 [ad_1]
Sharjah: Ahmed Mustafa
The Arabian Horse Stable in Dubai dominated the awards of the 15th edition of the Sharjah Arabian Horse Festival "Egyptian Breed", which was held at the Sharjah Equestrian Racing Club, with the participation of 61 horses from various studs and clubs in the country.
Stud Dubai won gold in the main rounds of the championship, after winning 4 gold, two silver and one bronze.
The festival was attended by Sheikh Abdullah bin Majid Al Qasimi, President of the Sharjah Equestrian Club, Dr. Ghanem Al Hajri, Secretary General of the Emirate Equestrian Federation, Sultan Al Iahiai, Director General of the Sharjah Equestrian Club, Issa Hilal Al Hazami, Chairman of the Sharjah Sports Council Mohammed Al Harbi, director of the Emirati Thoroughbred Association and Mohammed Al Tawhidi, director of Dubai Stud.
In detail, "De Kehelan" Dubai Stud won the gold of the Colts championship, while "De Mamzar" Dubai Stud also won a silver medal, and his friend Al Rimas won a bronze medal.
"De Amira" Dubai Arabian Horse Stud won the gold foal, while "Basma Al-Ezz" from "Al-Ezz Stud" won the silver medal, and "D-Afaif" Dubai Arabian Horse Stud won the bronze medal.
Stud Dubai continued to dominate the awards, after "De Afaf" won the gold of the mare championship, and "Di Umniah" the silver medal, while the bronze went to "SG Ravda" by Mohammed Haitham Al Kindi.
In the stallion championship, Dubai Stud won gold with the horse "De Haider", while "Raiana" Al Rimas won the silver medal for Arkan Malik Al Kubaisi, and the bronze went to RAK Al Valeed from the Arabian stud farm Ras Al Khaimah.
In the festival activities, an auction was held that followed the auction of Arabian horses in Sharjah, with the participation of 69 horses.
[ad_2]
Source link