[ad_1]
The Spanish championship is led by two Catalan teams – this is a purposeful result. "Barcelona" – at the top, and behind him – sensational "Espaniol". "Papagos" used the failures of "Seville", "Atletico" and "Alavesa", which are in second place.
His success, "Espaniol" earned a victory over "Athletic." A decisive maneuver was the goal of Borca Iglesia at the end of the first half, when the striker closed the service of Didak to the distant post.
And "Athletics" was a good moment and was very active. But the wealth turned from the Basque, which most clearly manifests itself in the episode, and Villiams hit the crossbar.
So, "Athletic" continued its losing-lose series, which has been going on for years – since August.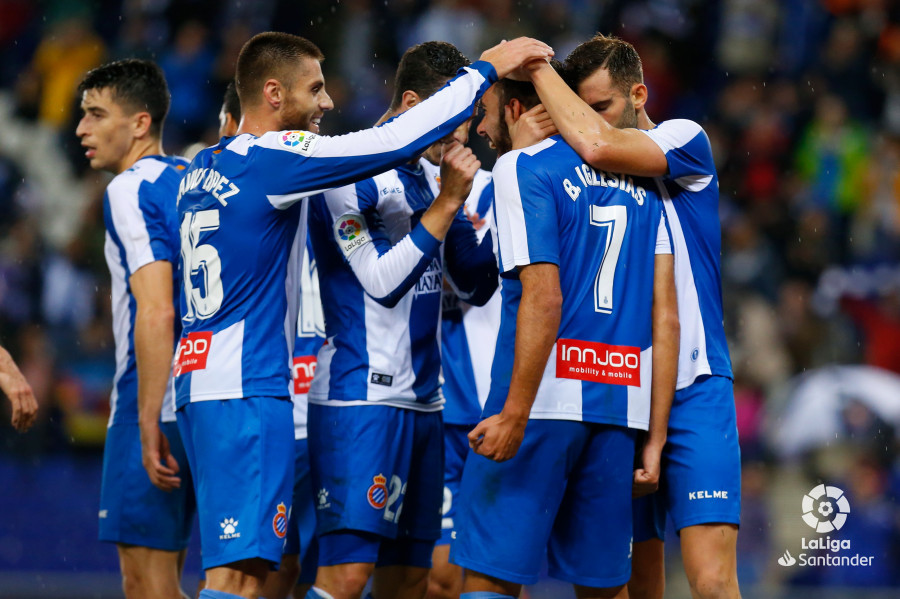 Barcelona Stadium Cornella El Prat. 14 328 spectators
"Espanyol" – "Athletic" 1: 0
The goal: Borja Iglesias 41
Espaniol: Diego Lopez, Borja Iglesias, Javier Puado 78, Sergio Darder, Leo Baptistau (Pablo Piatti 66), Vila Didac, David Lopez, Javi Lopez, Mark Roca, Mario Hermoso, Esteban Granero (Victor Sanchez 87)
"Athletic": Iago Herrerin, Inigo Martinez, Erai Alvarez Lopez (Unai Nunez 17), Mikel San Jose, Inaki Villiams, Juri Bercic, Dani Garcia, Mikel Riko (Iker Muniain 65), Oscar de Marcos, Arritz Aduris (Markel Susaeta 71) Garcia
Warnings: Esteban Granero 66 – Mikel San Jose 20, Dani Garcia 48, Unai Nunez 76
| # | The team | I | In | H | F | M | RM | Oh |
| --- | --- | --- | --- | --- | --- | --- | --- | --- |
| 1 | Barcelona | 11 | 7 | 3 | 1 | 31-14 | +17 | 24 |
| 2 | Espaniol Barcelona | 11 | 6 | 3 | 2 | 15-8 | +7 | 21 |
| 3 | "Seville" | 11 | 6 | 2 | 3 | 22-13 | +9 | 20 |
| 4 | Atletico Madrid | 11 | 5 | 5 | 1 | 13-6 | +7 | 20 |
| 5 | "Alaves" Vitoria-Gasteis | 11 | 6 | 2 | 3 | 15-11 | +4 | 20 |
| 6 | Levante Valencia | 11 | 5 | 2 | 4 | 17-16 | +1 | 17 |
| 7 | real Madrid | 11 | 5 | 2 | 4 | 16-14 | +2 | 17 |
| 8 | "Valladolid" | 11 | 4 | 4 | 3 | 9-9 | 0 | 16 |
| 9 | Getafe | 11 | 4 | 4 | 3 | 11-9 | +2 | 16 |
| 10 | Girona | 11 | 4 | 4 | 3 | 13-14 | -1 | 16 |
| 11 | Celta Vigo | 11 | 3 | 5 | 3 | 20-16 | +4 | 14 |
| 12 | "Eibar" | 11 | 4 | 2 | 5 | 12-18 | -6 | 14 |
| 13 | Real Sociedad San Sebastian | 11 | 3 | 4 | 4 | 12-13 | -1 | 13 |
| 14 | "Betis" Sevilla | 11 | 3 | 4 | 4 | 8-12 | -4 | 13 |
| 15 | "Valencia" | 11 | 1 | 8 | 2 | 7-9 | -2 | 11 |
| 16 | "Villarreal" | 11 | 2 | 4 | 5 | 9-11 | -2 | 10 |
| 17 | Athletic Bilbao | 11 | 1 | 7 | 3 | 11-16 | -5 | 10 |
| 18 | "Leganes" | 11 | 2 | 3 | 6 | 9-16 | -7 | 9 |
| 19 | "Raio Vallecano" Madrid | 11 | 1 | 3 | 7 | 12-23 | -11 | 6 |
| 20 | "Huesca" | 11 | 1 | 3 | 7 | 9-23 | -14 | 6 |
[ad_2]
Source link