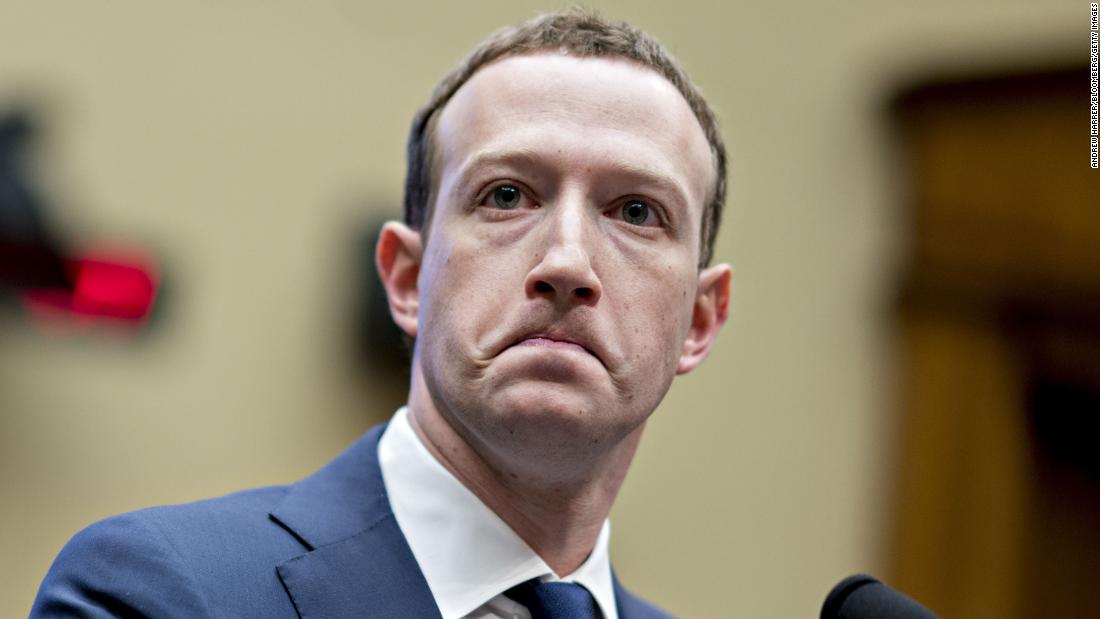 [ad_1]
If that's not enough, this weekend marks the anniversary of the Cambridge scandal. The Analytics that turned the company into an – the anniversary of Facebook would almost certainly like the world to forget.
All of the problems that Facebook and CEO Mark Zuckerberg had struck a year ago have since collapsed: regulatory control, fighting for a police platform and a growing executive exodus in the midst of a scandal.
"It was a nightmare for Zuckerberg and Facebook," said Daniel Ives, an analyst who followed Facebook for Vedbush. "Technical investors are getting nervous" that "there might be more turbulence".
Facebook shares fell as much as 4% on Friday before trading began before they recovered. Facebook representatives did not immediately respond to a comment request on this story.
Facebook started a year on a strong note. In January, the company reported a record profit for the past three months of 2018, sending a strong signal that its enduring PR crises did not hurt its end line. At a conference call with analysts to discuss the results, Zuckerberg gave a reliable note. "We started to turn the corner," he said.
Now it looks more like Facebook turning a corner and joining the other wall.
While Facebook is working to break the data privacy crisis that hit it last year, politicians and regulators continue to explore the company. According to reports, federal prosecutors are investigating the fact that Facebook collaborates with a number of technology companies. It is said that the Federal Trade Commission is negotiating with Facebook about a possible fine. European officials seem to be examining every move of the company.
Perhaps in an effort to show the world that the company is truly reformed, Zuckerberg wrote a long post on his plans this month to reposition Facebook as a "privacy-focused" platform. To get there, Zuckerberg said that Facebook will emphasize private, encrypted and ephemeral conversations across its products.
However, these moves can only contribute to turbulence on the Facebook bench. Chris Cock, head of product for Facebook and longtime right-hander Zuckerberg, announced that he will leave the company on Thursday. Both he and Zuckerberg alluded to the need for "leaders" who were excited about the new strategy.
Facebook also said that Chris Daniels, who was in charge of VhatsApp, is leaving the company. In recent months, the company has lost its chief security officer, top executive director for politics and communications, Instagram founder and CEO VhatsApp.
These headlines, says Ives, show that Facebook continues to fight the "bumps" from Cambridge Analytics.
After this data scandal, Zuckerberg and other executives have repeatedly told politicians, investors and printers that Facebook employs more than a thousand content moderators and build systems for artificial intelligence to protect the platform from propaganda, hate speech and violent videos.
However, the boundaries of this dual approach were apparent on Friday during a massacre in a mosque in New Zealand. It seems that one of the shooters in a lifetime attacked Facebook for almost 17 minutes. Facebook said it was "quickly removed", but only after the New Zealand police warned him of the video. Video copies continued to appear on Facebook, YouTube and Twitter.
The news has once again provoked criticism that Facebook and other social media companies do not make enough to deal with this type of content. At its very least, it serves as a powerful reminder of what Zuckerberg said in the past: Facebook's protection is "an endless battle".
If this week is any indication, placing Facebook's home in the order could prove to be an endless battle.
Sherisse Pham contributed to this report.
[ad_2]
Source link